We all need a little inspiration in our daily lives, and inspiring people to become their best, most creative , compassionate and empowered selves is my greatest hope and intention, through my books, teaching, workshops, individual coaching, and of course though my line of Inspirational prints, magnets and related items.
I believe that we all have the power to use words to change our lives, and when we use them wisely and well, we can create more kindness, compassion, understanding, peace, beauty and creativity in our lives and in this world.
When I hear from those who have found my work to be helpful, who tell me that they have indeed felt inspired to go forward on their life pathways to a greater degree because of participation in one of my classes, workshops, or through reading one of my books or my Inspirations prints, such as my most popular book, The Power to Write: Seven Keys to Discover Your Writer from Within, and my most popular print, Your Life is a Sacred Journey, I feel very humbled and pleased that I am indeed making a difference to others.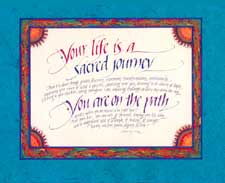 And I know that YOU have that power to make a difference to others, too…..we all do, we just need the support of others, and sometimes some inspiring words, to help us along the way…
Many Blessings to you as you continue along the sacred journey of your unfolding life, and I hope to hear from you or have you attend one of my events in the future!
Caroline Joy Adams